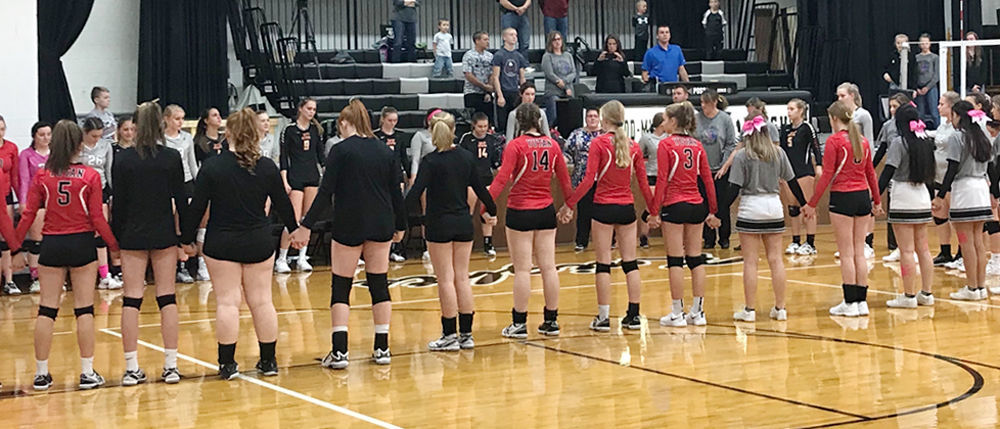 Elmwood-Murdock volleyball athletes included cancer on their list of opponents this fall with several fund-raising efforts in the community.
The Knights continued their annual cancer awareness efforts during the 2018 campaign. Elmwood-Murdock's volleyball program has sponsored cancer research and support initiatives each year that Nichole Justesen has been head coach. The Knights raised $821.96 during this year's cancer drive.
Elmwood-Murdock's work had a large amount of personal significance for the team this fall. Players and coaches decided to support two families with direct ties to the volleyball program.
The Knights collected donations to support Kearney teacher Bob Talbitzer, who is the brother of Elmwood-Murdock assistant volleyball coach Lisa Schmidt. Talbitzer is battling Grade 5 glioblastoma femoris brain cancer. He currently teaches general biology and AP biology classes at Kearney High School.
Talbitzer spoke to Elmwood-Murdock players during a home triangular in October and shared his message of faith and inspiration. He has taught and coached for 25 years and has earned a large amount of recognition for his work. He won the Presidential Award in Science Education in 1998 and the Vernier Software and Technology Award from the National Science Teachers Association this past spring.
Elmwood-Murdock players secured additional money to support Kimbrook Tennal, who is the husband of Elmwood-Murdock algebra and geometry teacher Kim Tennal. Kimbrook Tennal has Stage 3 colon cancer that has spread throughout his body. He is a physical education teacher and head volleyball coach for Centralia High School in Centralia, Kan.
Kim Tennal formerly coached volleyball at Elmwood-Murdock and has supported her husband throughout his battle with cancer. She is also helping her niece cope with a cancer diagnosis. Tennal's niece is fighting Stage 3 colon cancer.
Kimbrook Tennal has been with Centralia's volleyball program since 1997 and has helped the team win 14 state championships. He was inducted into the Kansas Volleyball Association Hall of Fame in 2017. He is also an assistant track and field coach at the school.
Elmwood-Murdock volleyball players and coaches presented checks to members of both families in late October. E-M and Yutan players also held hands and gathered in a circle as a sign of support for both Talbitzer and Tennal.
The Knights worked with Jolean Piitz and Kristy Burrows throughout the cancer drive. Piitz and Burrows helped create t-shirts to raise money for the initiative.
["source=gsmarena"]